With over 7 years of on-the-road performance history, the Steed Monotail chassis is a proven motorcycle platform that combines engineering and esthetics into pure form and function. The Monotail chassis that Steeds has developed for use in their limited production Steed Musclebike motorcycles has undergone a transformation this year to accept larger fitment tires. The Steed 300 platform is also available as a complete kit for builders.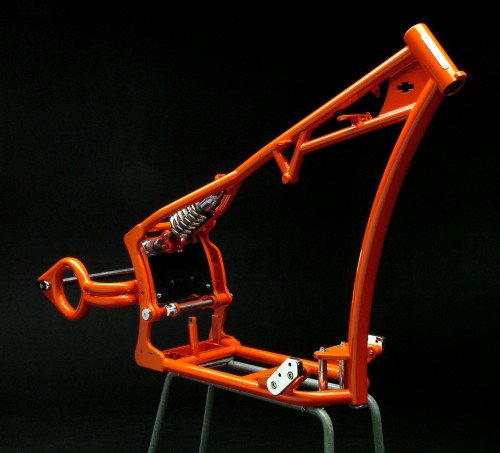 The Steed Monotail 300 frame kit accepts the biggest performance rear motorcycle tire that the industry leader, Avon Tyres, just introduced into production. New styling cues have also been introduced with the use of 1-1/2" tubing and a 2" arched front down-tube with a unique front cradle design. The Monotail is compatible with all big twin motors, including the H-D Twin-Cam 88a motor with a dyna-style tranny. The Steed Monotail big rear tire frame kit includes the proprietary three-way adjustable Monoshock with a chrome coil spring.
Steed's criterion for the groundbreaking Monotail chassis design in 1996 was inspired by a desire to improve on the performance of the status quo. By placing the shock absorber readily accessible under the seat, adjustments in compression, rebound, and dampening allow the suspension to be easily tuned to any riding condition. The seat height is low, while the drivetrain is at a relatively stock height, which allows for substantially better cornering without dragging the pipes or kickstand in the corners. The battery is located away from the boiling oil-tank for extended life. In fact a remote oil-tank is not needed since the motor-oil reservoir is integral in the dyna-style transmission.
Performance was the main feature that was driving the new updated Monotail.
This chassis is still one of the few big tire machines that you can ride at 80 mph, take your hands off the bars, and find yourself going straight down the road. This trait alone offers less rider fatigue that directly adds up to more comfort and a superior ride. The design philosophy at Steeds, a belief that motorcycles are meant to be ridden, combined with new styling features, is a combination that is sure to raise the bar in performance big-tire American machines.

© 2022 Covington Creations • 1934 E. Camelback Rd. • Phoenix, AZ 85016 • (602) 502-7833•