Assasin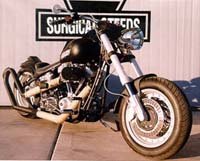 The Assassin was a project we started in the summer of '98 for Ernie Daurham. Let me tell you a little about Ernie. First off, Ernie's a complete nut when it comes to motorcycles, cars and most anything that's different that will run on gasoline. Ernie has been a customer of ours for about five years, which is when he moved to Scottsdale from Chicago. From what I understand Ernie had quite an extensive automobile collection in the "windy city" and sold most of his collection when he moved to Scottsdale because he didn't have enough room at his new home. We worked on his Harley when he first moved here, and by the time his custom house was completed, with the bigger garage for toys again, he had a pair of bikes that we customized for him.
Ernie's a pretty busy guy, and still commutes back and forth to Chicago a lot. When he's in town the first thing he does is fire up one of his bikes and hits the road. The only problem Ernie had was that all of his bikes were so shiny and pretty, (key word "were") that he never had enough time to keep them clean.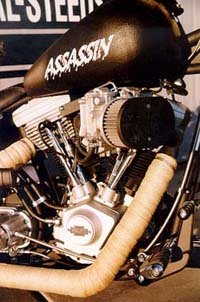 Ernie came to me with the proposition that he was ready to add to his collection. He wanted the most radical, fat, monster-motored rigid framed bike that Steeds had ever made. The only condition was that when he was done riding it he could just hose the road grime off of it and park it, ready to ride the next time with out having to feel guilty about riding a dirty machine.
What you see pictured here is just what Ernie ordered, the ASSASSIN. One hundred twenty five and a half cubic inches of sheer attitude.
Daytec built us a rigid chassis with our propriety hidden axle adjuster system, and raised the top tube three-quarters of an inch to accommodate the extra height needed to fit the taller 125.5" motor. We had the wheels specially made in a 3-piece design so the custom hub in the rear could be run with the pulley and the brake rotor integral as one unit. The rear tire is a 200x16 on an 8" wide rim so it looks extra fat, and we had to run a narrowed belt to accommodate the extra width of that meaty Metzler tire.
The frame is also stretched about three inches longer than the standard Daytec version, 'cause Ernie's not a little guy. The forward controls are also about 5" further forward than a normal size human can reach. He wanted a 38-degree neck on this beast, and it takes more than two lanes of traffic to pull off a U-turn out on the street. We added a kick-start to the 5-speed transmission so you can give an assist to the electric starter when the battery is a little low. I don't think a 500-lb. guy could kick this monster over.
Now for the thing most important, the "hose down" finish. The only thing chrome on this bike is the huge 7" Ness headlight, and Ernie just thought it was too pretty to bead-blast or powder-coat over, he promised us that he would keep the finger prints off of it. Other than that, the whole bike is wrinkle black powder-coated, raw aluminum that was bead-blasted or painted with black rubberized undercoating. We even had the Euro-inspired looped exhaust coated by Jet-Hot in a flat black finish. Those pipes radiated so much heat from that thermal-coating that we had to wrap them with special asbestos-like insulation so he wasn't roasting his cajones on the rear pipe.
Going with the "bigger is better" theory of design the gas tanks of choice were the 6 gallon steel version that CCI sells with the flush mount caps. The rear fender was fabricated in-house with integral struts. Ernie wouldn't let us stretch the tanks; he felt that might make the bike too pretty.
Since Ernie rides this bike all the time we used our Steed wiring harness which incorporates self-canceling turn-signals, a digital speedo and a Crane single-fire ignition, the same components we use on our limited production Monotail bikes.
I'll tell you, this bike is a handful to ride. You can go faster than a human should be allowed, as long as you have a nice straight flat piece of roadway. It leaves a bit to be desired in the cornering because it sits so low and is way too long.
Beauty is in the eye of the beholder, and Ernie is really in love with this bike. He talks about it like it was one of his many children. Ernie is one of the nicest guys you'll ever meet. He's the president of the Phoenix chapter of the "Buffalo Solders", and he was just awarded, along with Hilliary Clinton, a 1998 Humanitarian Award. If you see Ernie out on the road on his "ASSASSIN" don't be scared, he just doesn't want to wash before he rides.
- John Covington

© 2022 Covington Creations • 1934 E. Camelback Rd. • Phoenix, AZ 85016 • (602) 502-7833•