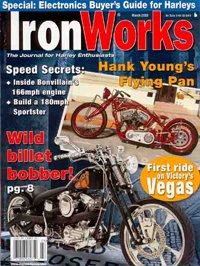 Bronco
Steve Schneiderman walked into my motorcycle shop carrying two chromed new billet PM wheels and a rusty rigid frame. I'd never met Steve before, but he had just moved to Scottsdale with his girlfriend and one of his first stops after he unpacked most of his moving boxes was Surgical-Steeds. Steve was on a mission. This was one determined guy. He was carrying what was his dream machine, but it was only a pain in the back so far. In his hands were the only parts he was able to salvage from a bike shop in Denver, where he just moved from, that went out of business in the middle of building his motorcycle. Steve's quest for his personal custom-built motorcycle only gets worse.
Steve had (the key word here is "had") a motor, transmission, front end, fenders and a tank that he purchased in Denver with all the aspirations for all those components to be propelling him down the road on the wheels that were now sitting in front of me. The shop in Denver had also taken a bunch of his money for parts he never saw, just before filing chapter 7 bankruptcy. So the "fun" money was gone, and when he went to collect the parts he had paid for, the only parts remaining retrievable were the two wheels and a rusty frame. Standing before me was a man with perseverance and determination to get on a custom bike, no matter what.
Custom bikes at Surgical-Steeds have a "Pedigree", and this time around Steve wanted the confidence that what he was going to pay for would be delivered, and with a warranty. After his first hard lesson in Denver he wanted a machine with the certifications of Federal Vehicle Identification numbers so he could get full coverage insurance at an affordable price for his bike. He already knew that Steeds had been in business since 1989 and building bikes with Federal VIN's since 1994, making Surgical-Steeds the longest surviving established brand of Alternative American motorcycles on the planet. At Steeds, we don't build thousands of bikes, but we deliver quality machines that people can depend on riding.
Steve and I had several meetings to establish a new budget for his Steed, while working up a design that would bring his vision of what his bike would look and perform like. He wanted a retro looking chopper on a rigid frame, power to spare to spin that 250 Avon rear tire he carried in the day we met. He didn't want the "chassis de-jour" (pardon the French) chopper with the extended down tube stretch that you see at every biker hangout. Steve wanted a bike he could ride until his kidneys were ready to drop. He wanted a low tight "bobber" or Frisco style chopper; a bare bones, bad ass, hot-rod bar hopping rigid bike with details that you have to look twice at before you notice them.
We started out with the new limited edition RevTech faux (more French, sorry) knucklehead styled 100 cubic inch motor. Hiding behind the knucklehead looking rocker boxes and fake generator cam cover lurks the reliable power of an Evo motor on steroids breathing through a Mikuni carb. To keep the vintage styling consistent we mated a working kicker cover onto a 6-speed RevTech transmission. To connect all that power to the gearbox a Primo Brute III, 3-inch open belt drive with Rivera's Pro-Clutch was chosen, and to add a level of stylish safety a vintage looking billet belt guard by Evo Industries was chosen to keep Steve's pants out of that fat primary belt.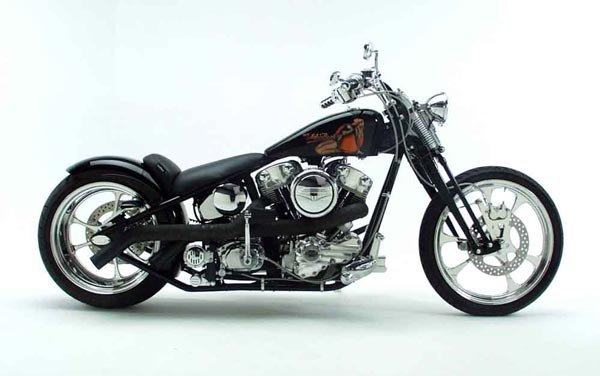 Once the Drivetrain arrived and was pulled out of the boxes, we bolted up an OEM Harley Bad- Boy Springer front-end to the frame that Steve brought in. We had more bad news for Mr. Schneiderman. It seems that the frame had some serious issues with the mounting locations for the motor and transmission. Neither mount was square with each other or the rest of the chassis. It would take a ton of hacking and welding or stacks of shims to make this drivetrain set square with the frame, and even then, the bike was going to have some serious handling problems since the bike would never track straight down the road with the motor cocked to the left.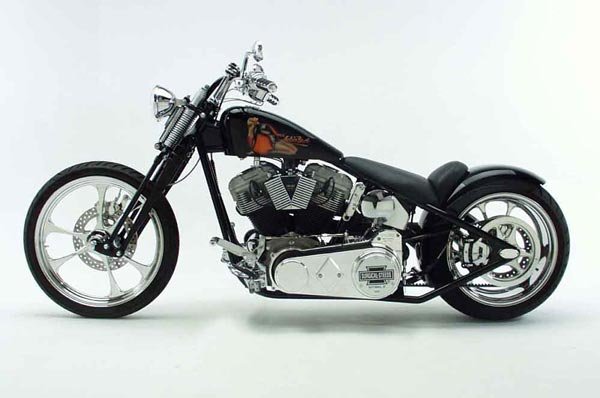 The decision had to be made by Steve to either live with a compromised ride on this bike, or get a quality chassis to build the bike around. Steve opted to get one of our new Daytec 'Noglide' 250 rigid frames to get the job done right. Paul Kirk at Daytec Center took all the specifications for the bike, which included a left-side brake and pulley combination from Performance Machine. The drive side brake caliper requires special mounting anchors integral in the rear section, and Daytec has the fixtures to mount this critical feature right on the money. Daytec also heat-treats and stress relieves all of the chassis they make. This adds an extra level of durability not found on many aftermarket chassis, and is really important on a rigid frame since there's no suspension on the rear end to cushion the beatings it will take on the road. The month long delay in getting a replacement chassis fabricated actually gave us a little time to focus on building some of the other details to bring this bike to life.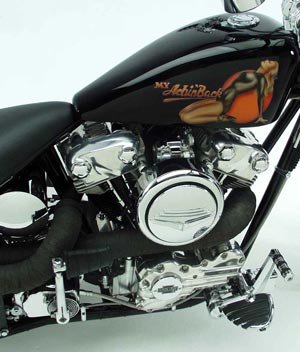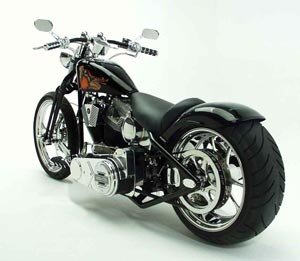 We acquired a steel "King" style Sportster tank, chopped off all the mounting tabs and cut the bottom out of it so we could make a deep tunnel in the tank. This allows the bottom of the fuel cell to sit level with the ground in traditional bobber chopper styling while hugging close to the top of the motor. To keep the lines smooth with the rear of the bike I added a 3-inch stretch to the tail of the tank. Each fabricated component had to compliment the retro feel of this machine without being to slick or streamlined.

Once the new replacement chassis arrived from Daytec the alignment issues vanished. Now all that was needed to be fitted was the rear fender and the tabs to rubber-isolate mount the custom gas tank. Then we could make a set of pipes that would clear the fake generator cover. The one-off pipes had to have clearance for the kicker pedal to function too. This was a combination of mechanical obstacles that you don't see on standard Evo style drivetrains. After knowing what Steve had been through up to this point, building a set of custom exhaust pipes barely looked like a challenge.

Fat, two and a half inch diameter, seamless tubing was pieced together to form the prototype pipes that follow the horizontal lines of the tank. Then the exhaust tips were turned down to match the tail section of the frame. There was just enough clearance to go side by side over the Tranny kicker and have close to equal length pipes for each cylinder to maintain a level of performance. The noise makers where then coated with a heat resistant black finish and wrapped in hot-tape to add a tougher look. We've had such a favorable response to these one-off pipes we've developed a set of 2-inch pipes with the same lines in chrome for softail fitment from '84 to present. We've coined these new Steed pipes "Noisy Bastards," because we believe there should be just a little truth in advertising.

Speaking of "Truth in Advertising" this bike started out as a real "pain in the back" for Steve, and being a Noglide rigid frame, not designed necessarily for comfort on the long haul, Steve found some vintage "Vargas" style bomber nose art on the internet that had the phrase "My Achin' Back" plastered around a pin-up girl. There was no question that we had to get it illustrated onto the tanks. I enlisted one of the best airbrush artists in the country, Rick Wescott, to handle the task. He produced nothing but magic on each side of the tank in an exacting mirror image, with a 40's vintage feel to match the overall design of the rest of the bike.

While the finishing touches were added to power-coat the frame and paint the rest of the metal, there was some time to make custom handlebars to hide the internal wiring from the controls, along with a support for the rear brake hose to keep it out of the full width final-drive belt.

I hadn't heard from Steve for a few weeks and it was time to show him some of the progress on his machine. I put in a call for him to come over and check it out and then found that he had moved back to Denver to open a Biker Friendly bar called Schneidermans Tap House and Eatery. The opportunity arose for him to fulfill his other dream of opening his own watering hole for bikers, and so he moved back to the high country.

We finished assembling the Bronco and sent Steve shots from the photo shoot to gawk over while he's putting the finishing touches on his new tavern. Steve came down to pick up the finished machine just before Halloween in time for the first snow up in Denver. So the wheels that he carried into the shop about 6 months earlier are now rolling around, under their own power this time, back in Denver where the whole process began. Finally a little relief for that pain in the back; some wind in his face on a Steed, back home in the mile high city.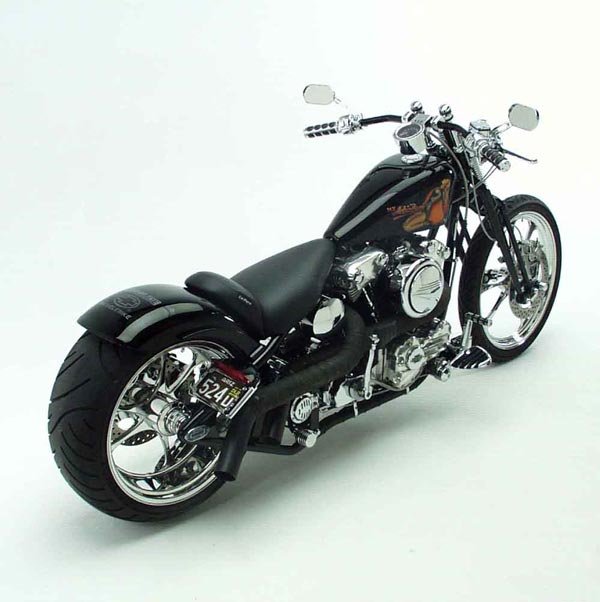 © 2022 Covington Creations • 1934 E. Camelback Rd. • Phoenix, AZ 85016 • (602) 502-7833•