Caminiti's Ultimate Steed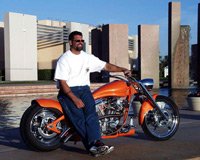 "This time I want a big fat, I mean the fattest, back tire. I want a long low stretched frame. And It's all gotta flow together". That's about all the direction that I got from Ken Caminiti for his second Steed. We built his first Clydesdale Musclebike back in 1996. The year that Ken was playing for the San Diego Padres, which was the same year he was the National League MVP. This time I got the challenge from Ken to build the Best Bike I've ever built.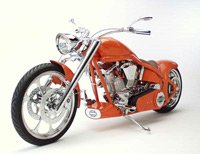 Ken was now playing for the Texas Rangers. He and Golden Glove All-Star catcher Ivan "Pudge" Rodriguez had met at spring training and both decided that they wanted new Surgical-Steeds motorcycles built specially for them. They flew me out to an exhibition game in Los Angeles to have a face-to-face meeting to discuss the details of their machines. That day they beat the Angels and were in a great mood. "The sky's the limit. Go for it". That was music to my ears. How often do you get the chance to build the ultimate bike with a pro Baseball players signing bonus budget? It also presented a real dilemma. Two bikes, two deep pockets, two big egos; how do you do two ultimate motorcycles without making them identical?
What you see here is what I invisioned as the Ultimate Cammy Steed. I started with the first Daytec 250 wide-tire Softail frame. This was one of the first that Phil Day designed for us with a triangulated swing arm, so it would look like a rigid frame. We stretched the chassis a full five inches forward and tossed in a dramatic forty-degree rake. That should handle the requirements of fat, long and low. I e-mailed Cammy on the road with a ton of scanned photos of billet wheel designs and he chose the PM designs that were selected for his ride. With an 18" 250 Avon gripper on the rear and a 21" on the leading edge I almost had a rolling chassis.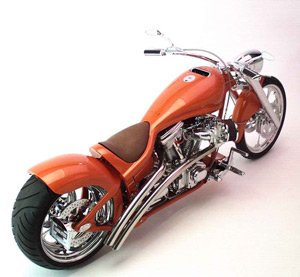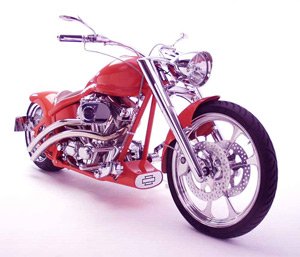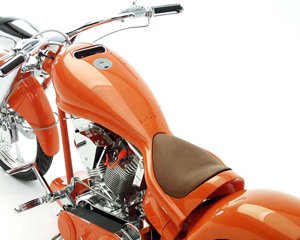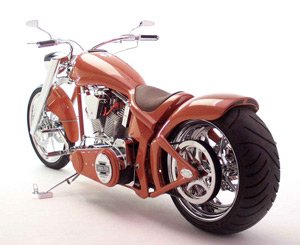 About a month into the design process I was at the Laughlin River Run and ran across Roger Goldammers' show trailer rig. Rodger lives up in Canada, and when he gets snowed in during the winter his imagination runs loose. His version of "Cabin Fever" is what you see in his design on the triple trees. I had to have on of these for Cammys' rolling masterpiece.

Ken ended up with the first production of Rogers' Trees. Goldammer starts out with a solid 125-pound block of billet aluminum. After almost 40 hours of machine time running a CAD/ CAM programmed mould making milling machine, you wind up with the ultimate in engineering design and function. Capped off with special Perse Performance 41mm sculpted lower legs and the bike was beginning to take on a stunning profile.

My shop is located in Scottsdale, Arizona and this bike was going to find a home in Houston, Texas. That's about 1200 miles from my base of operation, so I wanted a very reliable drive train. Big is cool, but it's got to start every time. I enlisted the expertise of Nigel Patrick to build the first motors he's done with Dual-Plug heads (two spark plugs per cylinder) along with a compression release to make the 113" Musclebike motor crank over with ease. Ken's bike has the first set of 'round' billet cylinders that came out of Nigel's workshop too. I had them polish the motor to a mirror finish prior to assembly to match the Baker 6 speed Tranny that would deliver all that power to the ground. Tying the motor to the transmission is a Rivera / Primo 3" open belt-drive with an Evolution Industries belt guard to protect the old pant-leg. Keith Terry supplied the 2.0 kw high torque starter. This beast cranks over effortlessly every time. What a relief to find the right combination of components that will deliver the goods every time.

Now it was my turn to really go to work. I assembled the rolling chassis and then took digital pictures of the roller. With the photos in hand I could do over-lay tracings of fender and tank designs. After about two weeks of sleepless nights I finally decided on the final design and e-mailed Ken the sketches. With his approval of my drawings, I enlisted Andy Palmer of Exotic Toys in Garden Grove California to bring my Gas tank design to life in sheet metal. Andy and I go way back, he did the body for my Cobra inspired custom Steed in 1995. This time I drew from some of the design cues of the the Cobra bike to make an integral fuel-cell and seat platform with some compound curves that only a master metal-smith could bring to life. Andy did his Aluminum magic while I fabricated the Steel rear fender at my shop in Arizona.

When the whole bodywork came to life, I new that we had a winner. It was stunning in its raw unpainted form. Ken wanted a pearl or metallic orange, and I worked with the Lenny at Scottsdale Paint supply. We formulated about 6 different samples of "Cammy Orange" and shipped them off to New York where the Rangers were playing that week and awaited his choice of a custom blended color.

In the mean time, we tore the bike back to the basic elements to put the final finish on everything. All the chrome was shipped out to Royal Plating in Tucson, where J.R. does all the shiny stuff for us. We did all the application of the PPG urethane Paint in house at Steeds. I was working on some graphic designs to accent the paint, and once the color was applied to the bodywork and chassis, I decided that this machine didn't need anything to distract form the clean flowing lines. This bike was just going to be "Cammy Orange" and that's all.

I wired the entire bike with a wiring harness supplied by Rick and Marlin at Wire Plus. I ran all the wires internally through the frame to hide all of the juice for the trick electronics that we worked into this machine. The indicator lights are LED's that were built flush into the fuel tank, and buried under the clear-coat. The Dakota Digital Tach and Speedo were frenched flush into the tank, even the front self-canceling turn signals are LED's hidden in the front foot-pegs. The rear directional LED lights are also built recessed into the paint on the trailing edge of the rear fender. The LED tag holder and taillight is a Steed proprietary component that's a trademark on many of our bikes.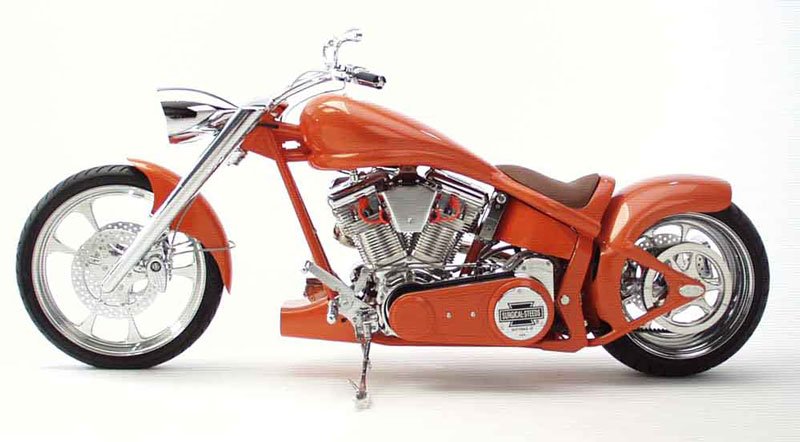 Ken's bike not only has all these cool design and performance features, but is also has a Steed Pedigree. His bike, like all of our machines, is listed in the Kelly Blue Book since Surgical-Steeds is a Federally licensed manufacturer of motorcycles. Every motorcycle that comes out of our facility has U.S. Federal VIN numbers, DOT and EPA approvals to protect the ultimate consumer, so it is easy to purchase full coverage insurance, and our bikes can exported to anywhere in the World.
After the season was over Ken came and Picked up his Dream Machine and rode it to the NHRA Winter Nationals in Chandler, Arizona. I rode with him and it was such a great feeling to be able to design and deliver a machine of this caliber. Ken looks incredible riding it, and right now he is somewhere in Texas enjoying his retirement from the big leagues so he has more time to ride his new Steed Quarterhorse SE.
This bike was also chosen by Easyriders Magazine as one of the 'BEST BIKES of 2002'. Please e-me at if you would like us to start building a Steed just for you.
-John Covington

© 2022 Covington Creations • 1934 E. Camelback Rd. • Phoenix, AZ 85016 • (602) 502-7833•