Cobra
I'm always having an inner conflict to "out-do" myself. After the glow of finishing the Stealth V2 project and showing it, I started searching for a concept that would inspire a bike that not only would be more universally embraced by the general Harley crowd, but would also challenge my design and engineering abilities.
How about a Cobra car? The Cobra was the original American Musclecar, brute power, big tires, loud and a recognizable American Icon. Now the gears were turning in my head, many sleepless nights were spent building the ultimate Cobra Motorcycle in my dreams. I wanted to build a "concept bike" just like the guys GM or Chrysler build future concept cars. I was not into building novelty "Body Bikes" which would involve sticking a trim package onto a stock frame and drivetrain. The concept would be to build a bike on the NO RULES principle of design; Nobody would be making up the rules but me.
Here are the preliminary design perimeters I developed before I drew the first sketch or ordered the first component:
It has to be more than just a body.
It has to have a power plant bigger than Big.
It has to have a chassis that nobody had ever built for a motorcycle before.
It had to look like a motorcycle, not a car, keep the proportions correct.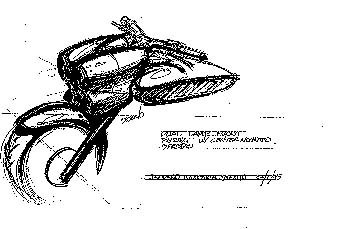 I started sketching ideas, and traded them with a longtime friend, and Senior Automotive Designer at Chrysler Pacifica, John Sodano. John is a complete nut about cars and I knew the Shelby Cobra held a special place in his heart. We traded faxes for a couple of weeks and then I did a final sketch of the bike, which became the final design.
I bought the biggest rear motorcycle tire available at the time, a Metzler 200/70 15 ME88. In '95 nobody made a 15 x 7" rear motorcycle rim. I found a local company who spun metal and gave them the design specifications and they cranked out a one-off rim for the rear of the Cobra.
I wanted the frame to emulate the leading automotive technology of the Sixties. Adhering to the whole Cobra concept, we came up with a "four-link" automotive style rear end, and I don't believe this had ever been done before on a motorcycle. I called Larry Langley at Progressive Suspension, told him what I had in mind and they engineered a custom shock that met the spec.'s needed to support the four-link.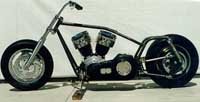 Next was the heart and soul of a MOTOR-cycle, the engine. It had to be Extreme. Delkron had just come out with it's four-cam billet engine case for top fuel drag bikes. That sounded like a cool platform to base the machine on but this was going to be a street bike. I needed an alternator and enclosed pushrods to oil the top end if this bike was going to run more than a quarter of a mile at a time.
I found one of the top gear-head machinist/motor-builders in the country that built many a bunch of winning motors for the top racers, Sam Evans of Sam's Performance Specialties in South Carolina. Sam thought I was a complete nut when I told him needed a Streetable 120" 4-cam big twin with two rear cylinders. "Why the hell do you want two rear cylinders?" Sam questioned. Well, I had just finished sketches of the bike and I needed big dual exhaust to emulate the Cobra car. If you use two rear jugs and Heads the exhaust ports are facing to the rear of each cylinder, and you have the intakes facing forward. That makes for a really cool looking platform to mount a pair of Mikuni HSR42 carbs on, and some unusual plumbing required to fabricate exhaust pipes emulating the Cobra style.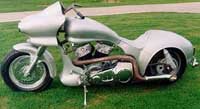 Sam accepted the challenge, and this was a motor that involved a ton of engineering; custom ground Andrews cams with reverse lobes for the backwards facing front heads, reverse geometry which involved machining the heads to accept pushrod covers at angles never before attempted, and all on a motor that had to start without an external source, on-board batteries, not a big external starter like on the drag bikes Sam was the master of building. Sam pulled off the motor-building for us, after he pulled out most of his hair in the process.
Now for the body. It had to be aluminum, just like the original Shelby version. I ended up drawing a ½ scale version of the Cobra, found huge blocks of foam and carved out "bucks" or the model from which a fabricator bases the body panels. I found Andy Palmer of "Exotic Toys" in Bellflower, California. Andy is an amazing artist in metal. He completed a 5000-hour apprentice program to learn the art of metal forming in New Zealand. Building metal bodies from scratch is a lost art, and I was blessed to find a guy who not only knew bodywork but also specialized in restoring Cobra cars. It turned out that Andy had some of the original Cobra body bucks that were carved out of tree stumps at his shop. Within six weeks Andy transformed my blocks of foam into the body you see on the bike.
It took 18 months from conception to riding the Cobra V2 on the street. I can still spend hours staring at it and amaze myself that this project came to life with the help of some really skilled people who believed in my vision.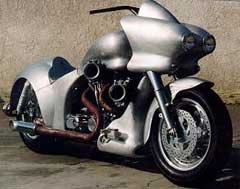 Many of the lessons learned building the Cobra; Suspension Technology, Motor-building and general Rule Bending translated directly into the Steed Monotail Musclebike Motorcycles we produce today. This is the reason we spend years developing Concept bikes, not just to look at, but to push the envelope of design and engineering parameters in which we use on a day to day basis in every bike we build at Steeds.
- John Covington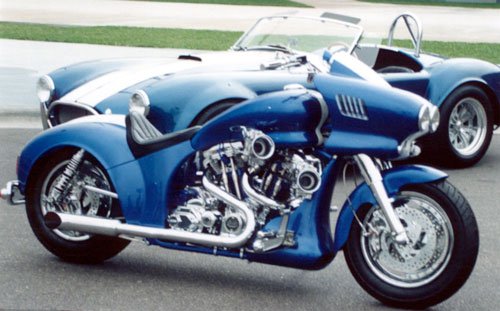 © 2022 Covington Creations • 1934 E. Camelback Rd. • Phoenix, AZ 85016 • (602) 502-7833•