The coolest thing about being involved with a motorcycle company is being able to build a new personal bike to ride. My last bike was fully practical, bags, windshield and even a cigarette lighter to plug my cell phone in while on the road. My old prototype 'Pegasus' bike had to be shredded to fixture up for some exciting new bikes we're going to debut this spring with our new moniker, Steed by Patriot.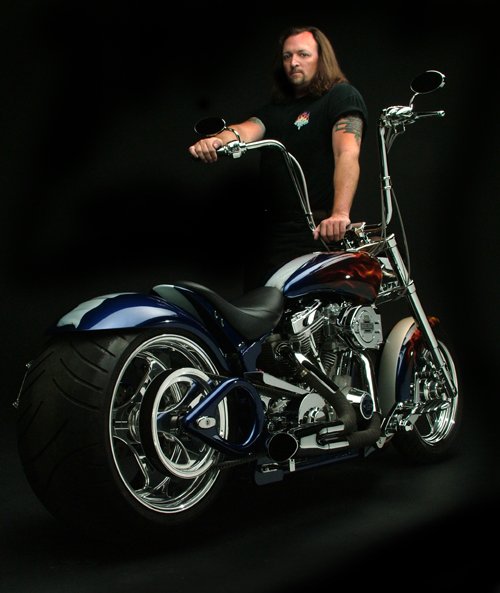 I've got to have a Steed under my butt to ride, and our new 300's handle so great I figured now was the time to finally get one of my own. My new bike is a little more radical and may be the prototype for a new 2006 300-series model. This one happens to be the very last Surgical Steeds issued VIN number. Now that my crew and I have joined forces with Patriot Motorcycles, we'll have a new VIN prefix for our Steed by Patriot bikes. The bloodline is the same with the new venture, and we'll be able to reach even more riders with the ability to build even more quality bikes in our new facility that's now in the works.
The idea behind my final Surgical-Steed bike was to take one of our 300-SM Bronco 'Bobber' models and throw in a big dose of steroids. I envisioned a large deep tunnel peanut tank that had a graceful curve to match the rocker boxes. Tony Watson, Steed's metal fabrication wonder-child took my sketches and pounded out an absolutely stunning tank. Most of the other components are right off the shelf for our production bikes, including an S&S 124" motor, our Steed Behemoth front end and billet wheels. Since I'm 6'-4" tall, I put the 16" apes on her and now I'm ready to roll.
My idea behind the paint scheme was a tribute to the Shelby Cobra inspired bike I designed and built back in 1995. Ten years have passed and I'm ready to burn away all the remnants of the last decade and light the fire for our new alliance with Patriot Motor Co. Steed's master-painter 'WTF' Chuck is quite the craftsman, and he laid down the PPG viper blue urethane. Rick Westcott did an amazing job with the realistic flame art and all the other illustrations for this bike.
Look for lots of new products and bikes in the coming months from Steed by Patriot. I've been working on an all-new design for a 200 series Monotail chassis. We're in the works on releasing three new performance versions and they'll be priced in the teens. In the mean time, I'll be riding this one to the shop on a daily basis and it too just might be available this spring as a new production 300 series model...you heard it here first. This place has always been and will continue to be a "Work in Progress". Here's to the future.
Keep the rubber side down,
John Covington