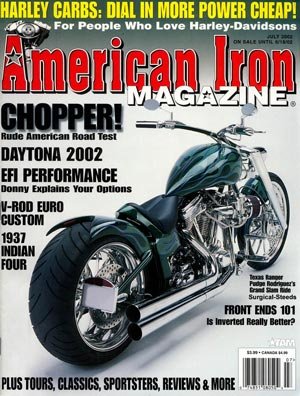 Pudge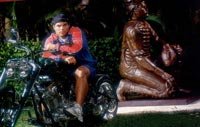 First off, I don't know a thing about this country's national pastime of baseball. I spent my childhood tearing apart stuff in the garage and rockin' on my drums. The draw of T.V. sports or actively participating with the jocks during my high school years was something that never caught my attention. My dad was the athlete so I did just about everything possible to avoid and annoy him. Imagine a kid playing drums at night after a hard days work. That was my athletic accomplishment in my youth. Mission accomplished.
Now, after building custom motorcycles since the late 80's, I have a bunch of pro-baseball players as customers. It all started when Rob Deer, one of the greatest home run hitters in all of baseball, came in after one of his spring training practices back in '92. Since then the word spread through the major leagues, every spring training season in Arizona is a great time for me to meet and start on building some new custom Steed bikes for famous ball players that I've never heard of, yet!
This bike is the result of a relationship that I've developed with Ken Caminiti, 1996 National League MVP. After I built his 1997 Steed Clydesdale (featured in '97 March VQ magazine). I had no idea that Ken was such a baseball stud when Rob Deer introduced him to me. During the time I was building his bike I tuned into the evening newscasts watching his daily record-breaking highlights in his MVP season. That was the first time I ever got interested in the game, watching someone I personally knew, while learning the subtleties of the game of baseball. I delivered his new Steed bike to him about the time he picked up his MVP trophy and bonus check in the fall of '96.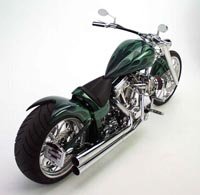 Fast forward nearly 5 years later and I get a call from Ken. He's in Florida spring training with the Texas Rangers now. It seems that he and All-Star Ivan 'Pudge' Rodriguez have been talking motorcycles between practices. Ken told him to check out what we do at Surgical-Steeds. I e-mailed Ken some shots of the bikes that we were in the process of building, he printed them out and kept on nudging Pudge to build a bike. Turns out later that Ken was giving him a hard time for buying a stock Harley Fatboy. He couldn't believe that Ivan was happy with a production bike from H-D when he could get a personal bike built just for him.

Pudge is from Puerto Rico and I had trouble understanding his English when we spoke on the phone. I don't speak Spanish, I only learned the Spanish curse words in high school, so we both used Ken as our personal go-between to get the ball rolling on the bike you see here. We did a bunch of e-mail correspondence then I finally met Pudge at a pre-season game in Anaheim, California. After they won that night, we spoke face to face to finalize the details of what he wanted in a motorcycle. I had very little design direction from him. Basically, in a nutshell, he wanted a fast long low bike, fat rear tire, green and 'no devil shit' painted on it.

What you see is exactly what he asked for; a fast, long low fat Steed with no 'devil shit' painted on it. I started out the next day driving back to Scottsdale with a cell phone call to Daytec's Paul Kirk. Daytec was just starting to offer a 250-Softail-style frame at the time, but it had a single horizontal tube swingarm. I personally think that the point of a Softail is to have a frame with the lines of a rigid, but with the comfort of suspension. So I wasn't thrilled with the swingarm that they offered. With a little coaxing and help from Phil Day, this is one of the first frames that they built with a 250 triangulated swing arm. They now build these chassis' for us with our trademark logo gusset and proprietary design details for our regular production bikes.

I convinced Ken to have us build him his second Steed bike at the same time. I didn't want to build two identical bikes on these new Steed softail chassis. I went in two completely different directions with the design of these Major League machines. Ken wanted curvy and fat, Pudge just wanted 'green,' so I decided to go 'pointy and slim' on Pudge's Quarterhorse SE.

A couple of weeks into the design process with Ivan; I attended the Laughlin River Run and met these amazing Canadian guys from Goldammer cycles. They have developed a radical streamlined set of triple trees from a single 125-pound block of billet aluminum. I liked what they had but I wanted to so something even more spectacular on this bike for the golden gloved Rodriguez machine. I worked with Roger Goldammer after the show and we designed this Steed/Goldammer "X" tree that is now a proprietary Steed product. They are not cheap by any means, but this is absolutely the most beautiful front end to ever grace a bike that has come out of our facility. This is the first article tree produced on Pudge's Steed and we have the CNC program ready to make more per order. I hand bent and fabricated the 'X' bars and the mirrors even have backlighted LED gauges.

There's a Tach and voltmeter in the right mirror and the red LED's in the left mirror. It also has the Speedo and Odometer functions as well. This is an ultra high-tech and clean solution to having a full compliment of gauges. I also developed a system of LED's boxed in through the fuel tank that illuminated the turn signal indicators, high-beam lights, oil and even a real time digital voltmeter. All these indicator lights are invisible when the bike is parked and illuminate when you fire up this Quarterhorse. This bike has more instruments than your typical HD full bagger bike. You can't see any of them in these shots. Crazy yes, cool yes, inexpensive NO. We're writing the book on this one.

Top this off with a Billet 113 c.i. Patrick Racing motor with round cylinders and dual Mikuni carb, the new Samson 'Challenger' series exhaust, a 6-Speed Baker transmission with a 3" open Rivera/Primo belt-drive, PM wheels and you've got a power train combination that will deliver the horses and reliability too.

All the bodywork was done in house. I spent a few days hammering, cutting grinding and welding to make the pointed fenders that hug the massive Avon tires. Captn' Mike layered on the chunkiest 'bass-boat' green metallic paint that we could acquire, over a black basecoat. Then I laid out a set of inverted flames and sprayed them in a finer grade of green metallic over a silver base. Ron 'the Legend' pinstriped the whole flaming glitter amalgamation and then we piled on the clear and sanded the whole thing flat before Cappy buffed it to a shimmering gloss.

I hid all the wiring, which included self-canceling turn signals in the foot pegs and LED's in the trailing edge of the rear fender. The license bracket is a Steed side mount that also holds the OEM Wilwood 4-piston chromed brake caliper. The front dual disc set up is also our DOT approved Steed/Wilwood system that has a pretty interesting brake hose set up; check it out.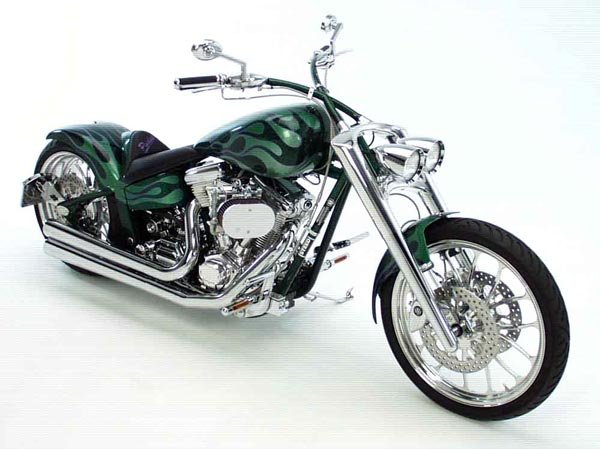 I never did get to see Ivan's face when he first saw his Steed Quarterhorse SE (Special-Edition) that we build just for him. It was picked up by our freight company and delivered to his doorstep in Florida. He immediately called me to let me know how pleased he was with his new Steed dream machine. He also posed with it for a feature in Sports Illustrated next to a full sized bronze statue of the "Pudge" in full catchers gear. It's pretty cool to think that a guy who can afford to have anyone build him a motorcycle chose me to bring it to life. The bike was also a cover-bike feature in American Iron magazine.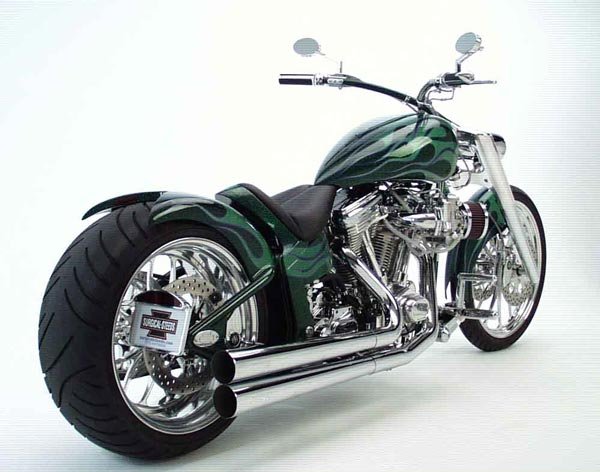 You don't need a major league ball player's pocket book to have us build a bike here at Surgical-Steeds for you. I put my heart and soul into every machine that rolls out our front door no matter what your budget is. Every Steed comes with our factory 3-year warranty and my commitment to bring your dream motorcycle to life within your personal budget criteria.
The bike we built for Pudge, just like every bike at Steeds, has the Steed Pedigree. That means that they are listed in the Kelly Blue Book with Federal Vehicle Identification Numbers, (not 'Special Construction') so you can get Full Coverage Insurance and also have the ability to finance a Steed too. The braking components we use are DOT tested and approved so you have the assurance that they will perform safely beyond your expectations. Steeds has all 50 state compliance EPA/CARB certificates so registering your Steed is never an issue no matter what part of the country you live in. Our bikes are all offered 'Factory Direct' so you're not paying extra for a middleman to muck up the design process. You'll get exactly what you pay for when you buy a Steed. We stand behind every bike we deliver with my personal promise to bring you top-notch innovative quality every time.
You can contact me directly at to let me know what you've always wanted in a motorcycle. That's what Ivan did to have us start on his ultimate ride. Are you ready to throw a leg over a Steed?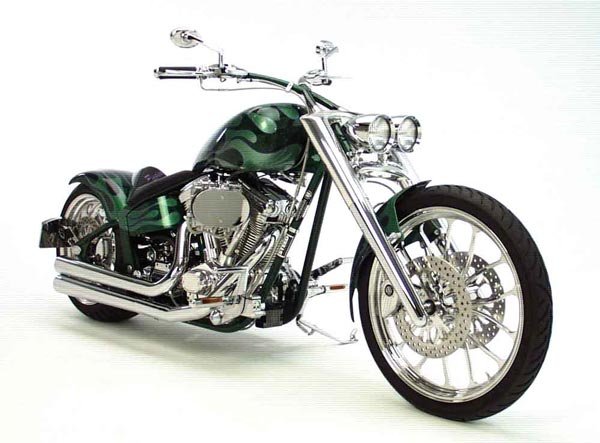 © 2022 Covington Creations • 1934 E. Camelback Rd. • Phoenix, AZ 85016 • (602) 502-7833•